Descripción
Firewall Watchguard Firebox M270 Total Security Suite
Seguridad de grado empresarial para pequeñas y medianas empresas.
Debido a que las compañías más pequeñas generalmente están menos protegidas y son más fáciles de ingresar, las pequeñas empresas se han convertido en el nuevo gran objetivo para los ataques cibernéticos. Los Firewall Watchguard  Firebox M270 Total Security Suite, están diseñados específicamente para defender todo tipo de pequeñas empresas, contra ataques que no son menos feroces que los que se dirigen a organizaciones más grandes. Nuestra arquitectura de producto única permite a las pymes aprovechar los mejores servicios de seguridad de su clase. Es decir, desde el filtrado de URL y la prevención de intrusiones hasta el control de aplicaciones y la prevención de pérdida de datos. Adicionalmente, evitando el costo y la complejidad de ejecutar múltiples soluciones de punto único.
El M270 y el M370 son parte de Firebox, galardonada plataforma de seguridad Watchguard. Por otro lado, la plataforma es capaz de proporcionar el conjunto más completo de controles de seguridad unificados en el mercado actual. Además, ha sido siempre la primera en ofrecer soluciones para abordar las amenazas de red nuevas y en evolución, incluidos el malware avanzado y el ransomware.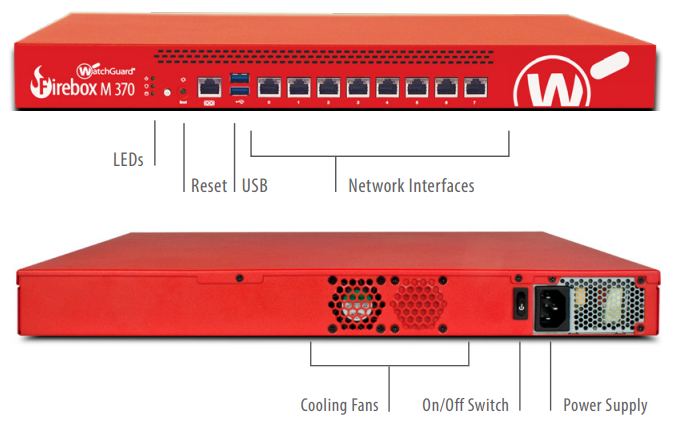 Firebox
M270
M370
Throughput
Firewall (UDP 1518)
4.9 Gbps
8 Gbps
Firewall (IMIX)
1.8 Gbps
4.7 Gbps
VPN (UDP 1518)
1.6 Gbps
4.6 Gbps
VPN (IMIX)
480 Mbps
1.4 Gbps
HTTPS (IPS enabled)
480 Mbps
800 Mbps
Gateway AntiVirus
2.1 Gbps
3.0 Gbps
IPS (fast/full scan)
2.3/0.9 Gbps
4.8/2.5 Gbps
UTM (fast/full scan)
1.6/0.8 Gbps
2.6/1.7 Gbps
Capacity
Interfaces 10/100/1000
8
8
I/O interfaces
1 serial/2 USB
1 serial/2 USB
Concurrent connections
2,000,000
3,300,000
Concurrent connections (proxy)
300,000
330,000
New connections per second
40,000
51,000
VLANs
100
200
WSM licenses (incl)
4
4
TDR Host Sensors included
60
150
Authenticated users limit
500
500
VPN Tunnels
Branch Office VPN
50
100
Mobile VPN
75
100
Security Features
Firewall
Stateful packet inspection, deep packet inspection, proxy firewall
Application proxies
HTTP, HTTPS, FTP, DNS, TCP/UDP, POP3, SMTP, IMAPS, POP3S and Explicit Proxy
Threat protection
DoS attacks, fragmented & malformed packets, blended threats & more
VoIP
H.323, SIP, call setup and session security
Filtering options
Browser Safe Search, Google for Business
VPN & Authentication
Cloud providers
AWS (Static/Dynamic), Azure (Static/Dynamic)
Encryption
AES 256-128 bit, 3DES, DES
IPSec
SHA-2, IKE v1/v2, IKE pre-shared key, 3rd party cert, Suite B
Single sign-on
Windows, Mac OS X, mobile operating systems, RADIUS
Authentication
RADIUS, LDAP, Windows Active Directory, VASCO, RSA SecurID, internal database, Duo, SMS Passcode
Management
Logging and notifications
WatchGuard, Syslog, SNMP v2/v3
User interfaces
Centralized console (WSM), Web UI, scriptable CLI
Reporting
WatchGuard Dimension includes over 100 pre-defined reports, executive summary and visibility tools
Certifications
Security
ICSA Firewall, ICSA IPSec VPN, CC EAL4+, FIPS 140-2
Safety
NRTL/C, CB
Network
IPv6 Ready Gold (routing)
Hazardous substance control
WEEE, RoHS, REACH
Networking
Routing
Static, Dynamic (BGP4, OSPF, RIP v1/v2), Policy-based routing
High Availability
Active/passive, active/active with load balancing
QoS
8 priority queues, DiffServ, modified strict queuing
IP address assignment
Static, DHCP (server, client, relay), PPPoE, DynDNS
NAT
Static, dynamic, 1:1, IPSec traversal, policy-based, Virtual IP for server load balancing
Link aggregation
802.3ad dynamic, static, active/backup
Other features
Port Independence, Multi-WAN failover and load balancing, server load balancing, host header redirection, USB modem as a dedicated interface
Physical and Environment
M270
M370
Physical and Power Specifications

Product Dimensions
17.2" x 1.73" x 12.6" (438 x 44 x 320mm)
17" x 1.75" x 12.08" (431 x 44 x 307 mm)
Shipping Dimensions
22.0" x 21.3" x 5.1" (560 x 540 x 130mm)
18" x 21" x 5.25" (45.7 x 53.3 x 13.3 cm)
Shipping Weight
18.9 lbs (8.5Kgs)
17 lbs (7.7 Kgs)
AC Power
100-240 VAC Autosensing
Power Consumption
U.S. 75 Watts (max), 256 BTU/hr (max)
Rack Mountable
1U rack mount kit included
Environment Specifications
Operating Temperature
32° F to 104° F / 0° C to 40° C
Storage Temperature
-40° F to 158° F / -40° C to 70° C
Operating Relative Humidity
10% to 85% non-condensing
Storage Relative Humidity
10% to 95% non-condensing
Operating Altitude
0 to 9,843 ft at 95° F (3,000 m at 35° C)
Storage Altitude
0 to 15,000 ft at 95° F (4,570 m at 35° C)
MTBF
51,644 hours @ 77° F (25° C)
Características y beneficios de Firebox M270
Permite la prevención de grado empresarial, detección, correlación y respuesta desde el perímetro hasta el punto final con nuestro Total Security Suite.
Multi-core de última generación. Los procesadores de Intel proporcionan la potencia para ejecutar todos los motores de escaneo de seguridad en paralelo sin causar cuellos de botella en el rendimiento.
Puede obtener información crítica sobre la red de seguridad, desde cualquier lugar y en cualquier momento, con WatchGuard Dimension.
Además, los informes de cumplimiento integrados, incluidos PCI e HIPAA, significan acceso con un clic a los datos que necesita para garantizar que se respeten los requisitos de cumplimiento.
 Rendimiento de firewall de hasta 8 Gbps. Es capapz de activar servicios de seguridad adicionales y todavía obtener un rendimiento de hasta 2.6 Gbps.
| Features & Services | Total Security Suite |
| --- | --- |
| SuiteIntrusion Prevention Service (IPS) | ✔️ |
| App Control | ✔️ |
| WebBlocker | ✔️ |
| spamBlocker | ✔️ |
| Gateway AntiVirus | ✔️ |
| Reputation Enabled Defense (RED) | ✔️ |
| Network Discovery | ✔️ |
| APT Blocker | ✔️ |
| Data Loss Protection (DLP) | ✔️ |
| Threat Detection & Response | ✔️ |
| DNSWatch | ✔️ |
| Access Portal | ✔️ |
| IntelligentAV* | ✔️ |
| Dimension Command | ✔️ |
| Support | Gold (24x7) |
Ver ficha completa haciendo click aquí.
Por favor, consulte por el modelo Firewall Watchguard más apropiado para su empresa.